LOVEJOY .J. LOVEJOY sticks his neck on the line for you people. And does he get any regard?
Don't make me laugh...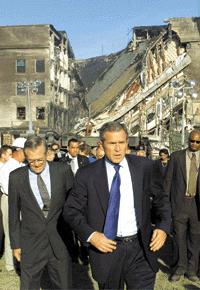 Bush: On the the brink of turban warfare.
ON THE NIGHT of September 11th, US President George W. Bush stood in front of the smoking rubble of the World Trade Center buildings and, nodding woefully toward the screaming concourse, he mumbled: 'I hear yer all...' Then, taking a moment to compose himself, he pulled the megaphone back to his mouth and added: 'And pretty soon the people that knocked down these buildings will hear you all'.

At that point, we all began to worry.

But what happened? A month's foreboding and silence. And in the absence of any real information coming our way, we all take heed, as the late-Nostradamus predicted the third world war again. Rather predictably.

Prime Minister, Tony Blair, escapes a meeting with angry trade-unionists and drags England in for a piece of the action. The attacks (all localised to heartland America) are transformed into 'OUR fight'.. 'OUR war on terror'.. 'an attack on OUR way of life'....

Then suddenly, it all kicks off. And there it is: some of the poorest people in the world being indiscriminately blown apart. Millions of dollars of American resources wasted in the pointless destruction of some already incredibly war-ravaged land. The rather ill-named 'smart bombs', apparently bored with munitions factories and terrorist training camps, descend upon hospitals and old-folks homes. And media-whores Geri Halliwell and H from Steps move in and begin pouting from the front-line.

Two months on, have the culprits of this terrorist action been apprehended? Or even satisfactorily identified, for that matter? Well, yes. But, get this, the evidence is secret - and therefore we just take the politicians' word for it (?).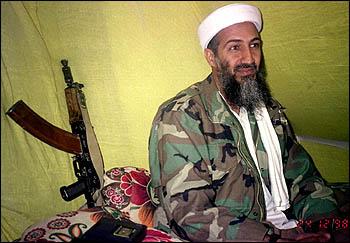 Osama bin Laden: And his enormous weapon.
At the beginning of the month, Mr. Blair, fresh from failing to break the middle-east with his homespun brand of bland pleasantries and pointless observation (war is bad, you know), has been in America, co-hosting conferences with Mr. Bush.

Misty-eyed, he told the prevailing media-circus that: 'there is a complete and total commitment to make sure we see this thing through'. Although, he failed to point out where.

Certainly, in England, support for the war has began to wan somewhat in recent weeks. Anti-war protests have begun to take place around the country, and since the war is long-haul (and won't contain any 'Kodak moments', according to Bush), it is beginning to make poor viewing.

Dire straits, for the nations tabloids? Not a bit of it. They have just decided that instead of the rather boring process of actually having to find news out, they'd just make it up instead. And why not? After all, it's unlikely Osama bin Laden is going to come out of hiding to sue, now, is it?

The 'Sunday People' and the 'Independent' newspapers (the latter being a kind of broad-sheet), have it on good authority that the hijackers were all sleazy, sex-mad perverts. They apparently 'spent at least 15,000 in dozens of strip bars San Diego' before being routinely thrown out by the club's bouncers. Also, as both papers stress, these hapless charmers were extremely bad tippers.

Moreover, if that wasn't all bad enough, the 'Mail on Sunday' newspaper, has it on equally good-authority (better, even, because they've enlisted 'American investigators' in their quest to get to the truth) that the hijackers were all gay.

However, perhaps most disturbingly of all, a report in the 'News of the World' earlier in the month shed some new light on the motives behind the attack. They dispelled that commonly held myth that Osama bin Laden's motives were either political or religious. In fact, according to the paper, he was 'a degenerate before he was a mass-murderer' and 'was forced to pay hookers to satisfy his cravings, because he was a sexual inadequate'.

The 'News of the World' tells the very sorry story of bin Laden's 'minuscule sex organs'. His anger with America apparently began with an American woman laughing at his tiny package. Well, now it all makes perfect sense.

Was it also the 'News of World' that exposed Hitler for only having one ball?