Television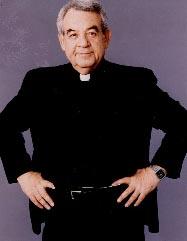 NEW SERIES:
'FATHER DOWLING IRRITATES'
(SKY 1, Sunday 17:00)
Return of the popular ABC Crime / Drama series.

Aging Catholic priest, Father Frank Dowling (Tom Bosley), is beset by the compulsive need to get involved in various homicides in the downtown Chicago area.

Unable to feed his fix in a professional capacity, he buys a police scanner and drives to various murder sites with a camera and notepad. Once there, Dowling approaches the agreeable police sergeant in charge, claiming he wishes to administer the last rights. However, he then routinely stalks the various police officials, dumbfounding them with the ridiculous ideas that he has lifted from the most recently televised episode of Banachek.

In this weeks episode, Dowling turns up at the scene of what is quite obviously a domestic shooting, and almost succeeds in convincing the hysterical woman holding the smoking gun, that her husband was actually killed by a crooked, local art dealer, with underworld connections. The police listen to his whittling with growing agitation. In the end, his fanciful ideas of a very contrived homicide scenario, (involving mirrors and a pulley-system), are at odds with the police ballistics report. And the art dealer doesn't exist.

Co-starring Tracy Nelson as Sister 'Steve' Stephanie and Donny Most as Father Ralph 'Mouth' McCarthy. Hey, even in the preisthood, he's got it...
''Allo, 'Allo' (UK Gold, weekdays 8am, 6pm)
Racist comedy. Set in Nazi-occupied France. With Gordon Kaye.

An English spy, disguised as a policeman (Arthur Bostrom) is detected due to his very bad grasp of the French language, and hanged in the town square.


Movies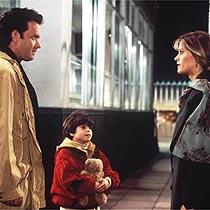 'SWEETNESS IN SEATTLE, FOR SICK DADDY'
Director, I. Schmian.

Oscar Winner, Tom Hanks plays Nick Cryssler, an ex-fireman, crippled psychologically in a blaze, whose wife has recently abandoned him. He is having trouble bringing up their two pre-schoolers alone. Furthermore, he has just found out he is dying from a fashionable disease. And he lives in Seattle.

Meanwhile, Meg Ryan plays Lorna Woolf, a scatty, but good-natured, female Lawyer with an unconventional approach. This manifests itself by way of her accidently tucking her skirt into her tights and also making whooping, orgasmic noises in the courtroom - and thus raising the judge's eyebrow. The judge is played for laughs, by Rosie O'Donnell.

Lorna's big problem is her social life, or, rather, her lack of one. And she always falls for the wrong guy. At night she trawls the internet looking for men in chatrooms but seems to find only lusty 14 year-old-boys with strange curiosities.

Lorna confides in her best friend, Ruby (Whoopi Goldberg), a scatty, but good-natured, kindergarten teacher with unconventional approach and a penchant for soul music & spiritualism.

When Hanks brings his two suspiciously sweet, wisecracking toddlers to Goldberg's creche, he bumps into Ryan and they fall in love. Lots of walks in the park and buying of ice cream ensues.

When his fashionable illness sets in and Hanks dies, his spirit takes control of Goldberg's body and he is able to reassure Ryan that they will meet again in heaven.

There isn't a dry eye in the house.

A multi-mood CD soundtrack from the film containing songs from The Righteous Brothers, right through to Roy Orbison, will be in stores ready for Christmas.



Television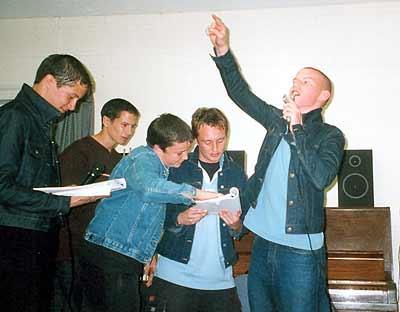 LAST IN THE SERIES:
'POP IDLERS'
(Saturday, 17:00, ITV)
Four, dour A & R men sit in the green room of a regional theatre losing patience with the endless troupe of work-shy school-leavers singing lifeless renditions of Robbie Wiliams' 'Angels'.

The boys, all coming from the Ramsgate area (all suitably appareled in YSL shirts, caps and Reebok classics), are blissfully unaware that the show is a simple marketing tool for some apparent 'singing sensation' that was already pre-picked before the series started.

Their gutted, fish-like faces, tell of their collective horrors with uncomfortable vivacity.

The series ends to the sound of a thousand angrily-slammed Vauxhall Cavalier doors.

NEW SERIES:
'GET WICKED'
(TUESDAY/THURSDAY, 18:30, CHANNEL 4)
Channel 4 are desperate to capture that all elusive 18-35 age group with this new piece of modern youth programming.

'Get Wicked' centres around the lives of six young people living in London's swinging Kennington area.

One of the group is black and another one is gay.

The stars, many of whom are former models for the Argos catalogue, were taught their craft by the same man that does such sterling work for the World Wrestling Foundation crew.

In this weeks episode, one of the blokes discusses with his mates his need to lose his virginity and one of the girls thinks she might be pregnant.

And, just like real life, no one swears.