The new heads on the block...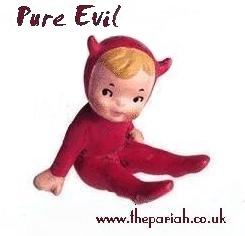 YOU TOO, CAN WRITE FOR THE PARIAH!

THE EDITOR OF THE PARIAH, BEING A GENERALLY WELL DISPOSED AND GENEROUS INDIVIDUAL, IS WILLING TO ENTERTAIN ALL YOUR CRAZY NOTIONS...

PLEASE FEEL FREE TO SEND ALL THOSE MESSAGES OF LOVE TO THE FOLLOWING ADDRESS, AND THE BEST WILL BE PUBLISHED IN A FUTURE EDITION OF THIS POPULAR ON-LINE JOURNAL.

AND OF COURSE, IT GOES WITHOUT SAYING, THAT I AM FREE THIS SATURDAY NIGHT!

THANK YOU, YOU GOOD, GOOD PEOPLE,

EDWARD HIGGINS, EDITOR.