Xerxes Vargas, inside the knotted tape barrier.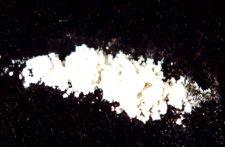 Powder: Suspicious.
London's fashionable Hoxton district was hermetically sealed last night, when it emerged that traces of 'a suspicious white powder' were found in the toilets of a number of bars and restaurants throughout the area.

In what has been hailed as the the largest suspected case of Anthrax poisoning so far, a MoD source, close to investigation, told The Pariah, 'We've never seen the likes of this before, the place is awash with powder, though it does seem to be largely confined to the toilet cubicles.'

Last night, teams of highly-trained government scientists, dressed in bio-hazard suits, closed the area and took away samples of the powder for testing.

The closure of the district has come as a terrible blow to for Hoxton's - usually thriving - leisure and entertainment industries, and has also meant that the revelers that usually frequent the area, have been forced to take refuge in other outlying districts of London; often with disastrous consequences.

The infrastructure in Old Street and Farringdon is close to bursting, and local bar staff have already been reporting a dangerous shortage of cranberry juice.

There have also been a number of incidents whereby Hoxton regulars have been attacked in the street, by mobs apparently enraged by their casual use of Batwing sweaters and blouson jackets.

In the early hours of this morning, a resident of Hoxton was admitted into St. Guy's Hospital, with a number of serious abrasions. The man was the victim of a savage beating on the streets of Tottenham last night, where embittered locals took umbrage against him for dressing like James Spader.

The chief of the Metropolitan police is also considering implementing a late night curfew for people that usually frequent the Hoxton area, who were described as 'vulnerable'.